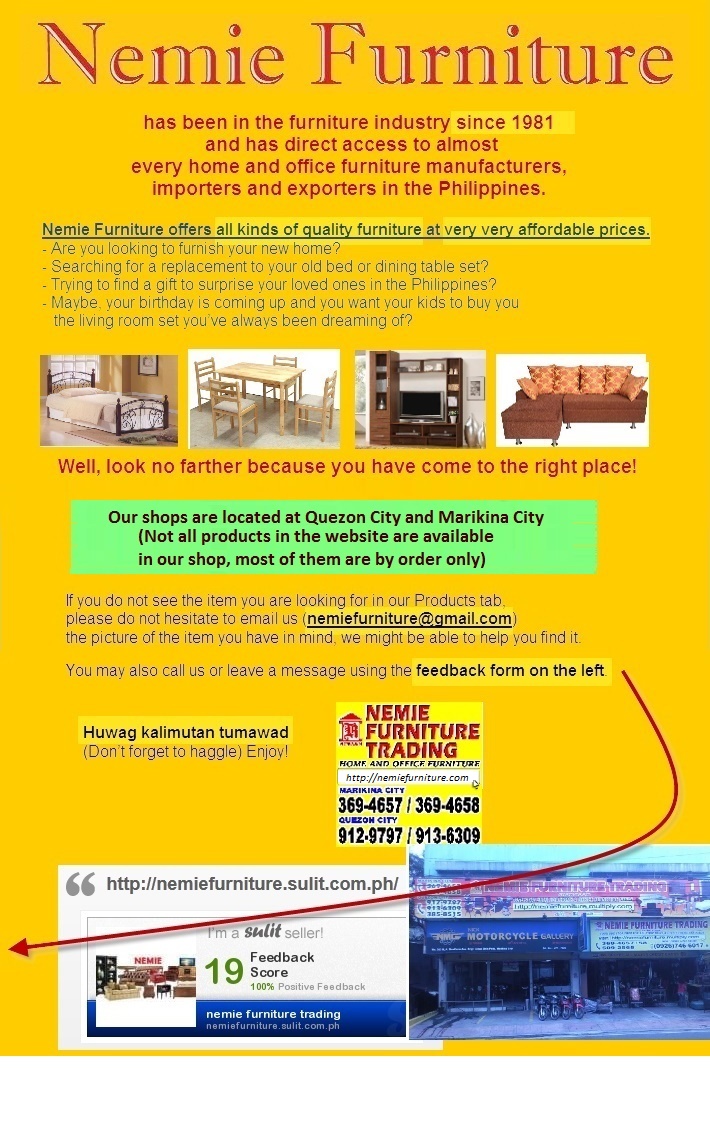 from Satisfied Customer
it's been multiple transactions and really good service, good staff and good quality of product.
Keep it up Nemie Furniture.
Ivy
Excellent Service & Good Price!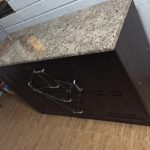 People are easy to deal with— price can be negotiated. Delivery was not so fast but communication was great. I will definitely buy more and would recommend this place!
Norma
Fast Transaction
Really impressed with how they handled my order. i was told that delivery is 7-10 days but after three days, I got them! They're very considerate and always willing to help.
Kaye Ferrer
Great Staff
I ordered 6 Seaters dining table Monday DG108 and was delivered Tuesday and michelle assisted me to deliver it ASAP. this is not my first time purchases. I would like to commend this staff to make nemie furniture a more trusted and legit store to buy online. Thank you.
Ligaya
Great Service !
Kudos to Nemie's Furniture!
I would like to thank your company personnel of their excellent support. The lady behind of good service, Ms Rachel took care of all my queries in a jiffy.
She also provided timely and helpful advice about the type and model of bedframe, bedfoam and pullout bed I was purchasing. She let me know all the important information regarding the product including its materials, sizes and fitting of pullout bed into the main bedframe. I am a busy professional and I urgently required information regarding those products for my family. Ms Rachel was extremely attentive to all my concerns with a great deal of patience. She also ensured that I received all the information regarding the mode of payment to the company and the date and time by which I would expect those items to be delivered to General Trias Cavite – "earlier than I expected", I mean their grant my request for delivery date.
Please accept my gratitude towards her and your delivery staffs (3 of them) for their speedy and efficient services. I was able to complete the transaction within a short period of time. I would especially like to commend Ms Rachel for her professionalism.
Dennis / Cherie / Izha
Gen. Trias – Cavite. Philippines
Dennis Umali
Great Service!
Great Service!
The staffs are very nice and the delivery is on time.
The prices are also cheap compared to other shops
Darick Sta Maria
Quality Service!
Konti na lang yung mga ganitong local entrepreneur na good quality service ang tlagang binibigay mula sa pag inquire mo sa products nila hanggat ma deliver nila sayo napaka bilis hassle free at ok ang presyo…..sana umunlad pag negosyo nyo pero sana wag kayong magbabago…salamat uli sa dinning set sana makabili uli ako sa store nyo
Ariel Simbajon
Fast, reliable, and affordable
I bought a display case from them. They replied immediately when I inquired for stocks (and even gave me a discount). Item was delivered a few days after in pristine condition. If you want no-frills transaction and value for money, do not hesitate to buy from them. Highly recommended!
Andrew Mantes
Quality & Affordable
Ever since the start of procuring of office furniture's and other that is requested by units were happy & satisfy of every items that Nemie Furniture proposed to us. Continue your good performance and customer relationship for more success in business.
Jonathan Vaflor
AFP Commissary & Exchange Service
Great Customer Service
I started inquiry on the 15th of July and placed an order on the 18th. Deposit was paid and the item ordered was delivered July 30th.
Rachel was quick to respond to my email inquiries as well as to give a call when the initial delivery schedule was not met. She did not just call to inform but also provided options to resolve a temporary delay. The delivery guys were very friendly and helpful as well and were on time.
Even if the communication was done mostly via email, the whole transaction was seamless and all my questions were quickly answered and were also on time.
I would definitely recommend this company to my friends and colleagues who are looking for furniture.
Liza Aquino
Quality is definitely top notch not to mention a reasonable price
I ordered 2 wardrobe cabinets early this June and I'm really satisfied with the quality of work and service Nemie's has provided.
Quality is definitely top notch not to mention a reasonable price.
Diana
Professional, great to deal with
Friendly and professional staff first and firemost. Secondly The office desks and chairs which we bought recently were absolutely fantastic. Good quality and value for money. Nemie is really your one stop shop for quality furniture. Highly recommended
Caroline Webber
From Edgar Pascua
I purchased furnitures from Nemie Furniture. The company was once featured at Kabuhayang Swak na Swak where I saw it then decided to purchased from them. Customer Service was excellent and very cooperative. They even offered me to pay via installment at that time since I didn't have enough money and I paid the balance upon delivery. Well, not all company is offering such kindness to their customers. Delivery people are also nice. I highly recommend Nemie Furniture for your furniture needs..
Edgar Pascua
A Pleasure dealing with Nemie Furnitures
From a satisfied customer – THANKS A LOT.
From the start of transaction in their Aurora Blvd Branch (with the Ms. Michelle), they were were very courteous and helpful. Even if I forgot to haggle, Ms. Michelle gave me big discounts which when (the end prices are) compared to those offered from other companies/showrooms, you'll be very glad and satisfied to having dealt with them.
Also, the delivery and assembly team were patient and courteous.
I have already referred them to my friends and family and definitely, I'll be a repeat customer.
Thanks again!!!
Tom DC